John and his wife Christy are natives of Sandy Springs. In what would later become Johns Creek, John bought his first home in 1999 and served as the neighborhood's HOA president.  When Johns Creek incorporated, John, like many other residents, felt that with the new city, our community would finally have the kind of protection and local control that we so desperately needed.
When John and Christy married in 2003, they moved into their current home in Kingston Crossing, where John also served as HOA president. Through that HOA role, John became increasingly aware of the challenges facing Johns Creek. He began attending City Council meetings and got involved in the JCCA. He started Preserve Johns Creek, a group dedicated to protecting our residential character and quality of life.  All of this led to a successful run for City Council in 2017.
While on Council, John has successfully advocated for the quality of life of our residential community.  He has fought for the rights of residents and for the inclusion of all of our citizens.  He has worked to make the city government as transparent and accountable to the residents as possible.  He has helped dozens of citizens with city issues or problems.
Many of his proposals have become city policy. Some examples are the establishment of the iHeartJohnsCreek committee, the initial protection and maintenance of the abandoned Macedonia African Methodist Church Cemetery, the focus on intersection improvements for traffic relief, and improvements to numerous city projects' and associated taxpayer savings.
John is a graduate of UGA with a BBA in Management Information Systems. He has a landscape design business and has other business interests, mainly in real estate.  John is a former United States Marine and member of the Johns Creek Veterans Association. He serves on the board of One Johns Creek, a coalition dedicated to helping youth mental health and substance abuse. Christy attended Auburn University and is a pharmacist.  Christy, John, and their daughter Gracie attend Northpoint Community Church.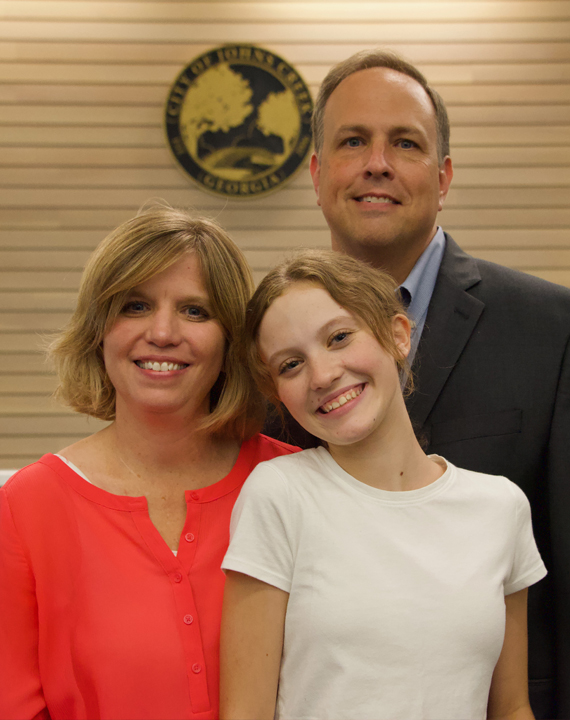 Commitment to Johns Creek
Sign up with your email address to receive news and updates.